Cowboys vs Aliens Winners
October 2022 Soap Challenge
This was a theme challenge: Cowboys vs Aliens!  Members were given creative freedom to use any technique to design their soaps and could choose between the cowboy category or the alien category.
The challenge was completely blind this month so that no one was able to share anything about their soaps anywhere on the internet until after the winners are announced.  Therefore, none of the photos are linked to social media posts.  However, you can search #soapchallengereveal to find out more information about the soaps from this month's challenge.  The names were not attached to the entries during voting, but you'll find them on the full list of submissions for this challenge linked at the bottom of this post.
Our sponsor this month is The Good Glitter, supplier of completely biodegradable glitter! Because it's made of eucalyptus cellulose, once it enters the waste water system, it's seen as food by hungry enzymes that feed on waste. Owner Brittainy Martin is a former soap maker who knows that a good loaf of soap isn't quite finished until it's dusted with glitter!  More info about Bio-glitter HERE.
Brittainy is providing gift certificate prizes for the top four voted winners in both competitive categories and a Sponsor's Choice winner in the bonus category.  We are so grateful for her generous support of the Club!!
As you might expect, this challenge has produced some truly outstanding soaps, but since we had fewer than 30 entries in each category, members were limited to just one vote per category instead of three.  Starting with the cowboy category, our grand prize winner is Michelle Lindberg of Mosaic Garden Soapworks in South Carolina!  Michelle created the silhouette of a cowboy on a horse, riding into the sunset.  It's quite dramatic!
Desperado by Michelle Lindberg
Michelle wins a $50 gift certificate from The Good Glitter.  Fantastic job and congratulations!!
In second place by just one vote we have Wan-Ting Gonzalez of Tile Soaps in California whose Wild West soap paints a desert sunset landscape complete with horse and rider, cacti and birds.  The design goes all the way through each soap.  Just stunning!
Wan-Ting wins a $35 gift certificate from The Good Glitter – way to go!  Incredible work!
In third place we have Amy Bautista of Elysian Acres Soap in Colorado.  Her soap is inspired by one of the very first educational video games: Oregon Trail.  It is a humorous nod to how many of us died along the trail while playing this game!  The ox, covered wagon and grass details are embeds that go through the entire soap.
You Have Died of Dysentery by Elysian Acres Soap
Amazing soaps, Amy!!  She wins a $25 gift certificate from The Good Glitter.
Our fourth place winner is Jennifer Marie Hofmann of Jennifer's Handmade Soap in Massachusetts.  This Christmas on the Ranch soap combines multiple soap dough techniques including embeds, inlaid design, and decorations on top for a nostalgic Christmas design:
Christmas on the Ranch by Jennifer's Handmade Soap
Jennifer wins a $20 gift certificate from The Good Glitter – woo hoo!
Recognition Awards for the cowboy category are next.  The Best Technique award is for a complicated, yet well-executed design.  I have chosen Robin Grieco in Arizona to receive this award for her Lone Rider entry, made with 10 handmade scrapers to create this complex silhouette of a horse and cowboy.  Robin explains that she built the soap starting with the cowboy's face and working her way up to the horse's mane.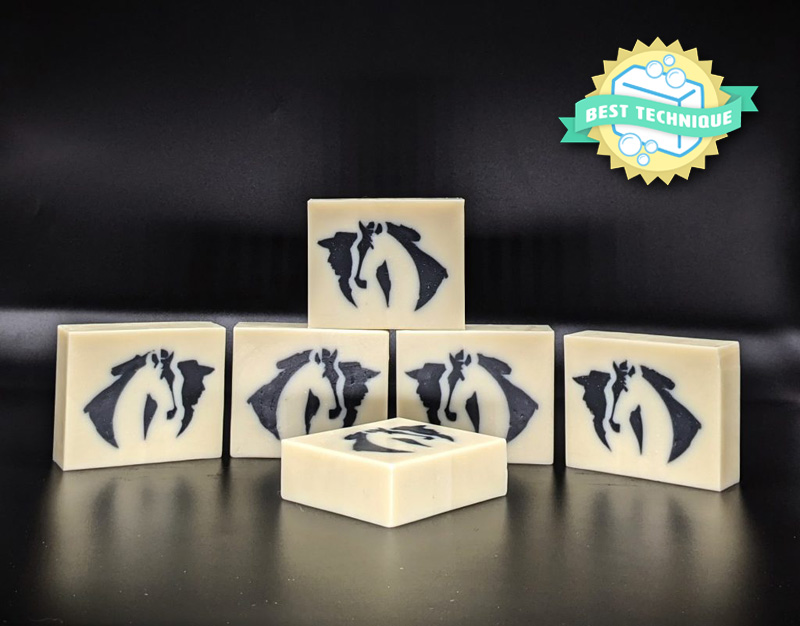 Lone Rider by Robin Grieco
Incredible design work, and such smooth results.  So wonderfully done!
The Best Use of Color Award is for an entry with smooth, well-mixed colors, and excellent contrast.  Grace Kam in Singapore did a phenomenal job painting three different cowboy scenes with soap!  The colors are fantastic and bring each of these soaps to life!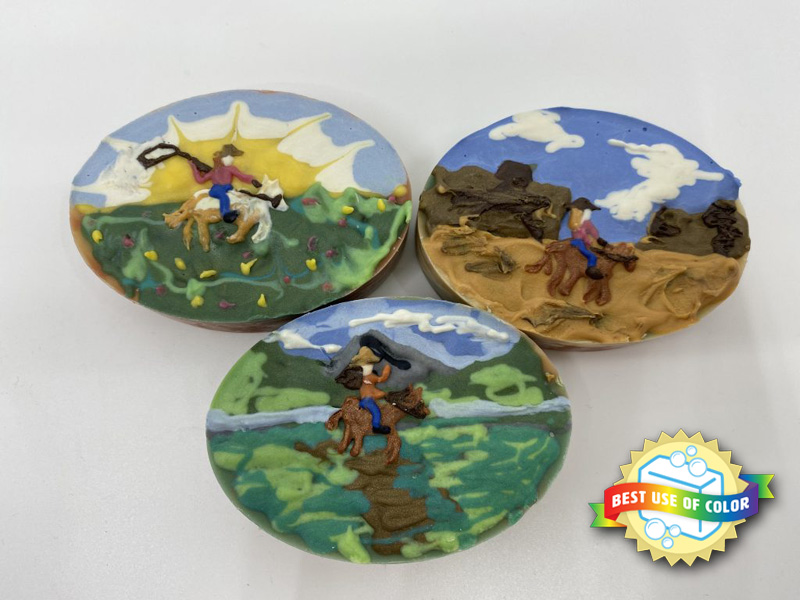 Poetry in Motion by Grace Kam
Incredible job, Grace!!
The Best Presentation Award is for an entry with well displayed soaps and fantastic photography.  My pick for this award is Wild Horses by Brigid Allen in New Zealand.  The dark background is clean and shows off the soaps very well.  The soaps are equally spaced and perfectly centered in the photo with plenty of white space around the edges.  Excellent focus and lighting!
Wild Horses by Brigid Allen
Wonderful job capturing these wild beasts in your soap and with your camera, Brigid!
It's been awhile since I've had the opportunity to recognize the Best Soap Newbies!  We had very few beginners participate this month, so I am especially impressed by those who did.  For the cowboy category, the winner of this award is Agnieszka Kalenbach in Illinois!  She did a fantastic job creating a cowboy silhouette in her soap:
Sunset in Texas by Agnieszka Kalenbach
Love the ombre effect for the sunset in the background!
For the alien category, our grand prize winner is Melanie McNeice in Australia!  Clean lines and well-executed design really make this alien in his spaceship stand out above the rest.  Melanie used a combination of embeds and inlaid designs to build an outstanding, artful soap:
I Come In Peace! by Melanie McNeice
Melanie's prize is a $50 gift certificate from The Good Glitter – so awesome!!  Such a well-deserved win!
Second place in the alien category goes to Lisa Cunningham of I Dream in Soap in the UK.  I'm not even sure how she managed it, but every single element of the design goes completely through the soap.  The alien with all of the facial details was made as a long soap dough embed!
Not Alone by I Dream in Soap
Lisa wins a $35 gift certificate from The Good Glitter – wonderful work!
In third place we have Julie DeNicola of Simply Original Soaps in Florida who was inspired by the novel by H.G. Wells: War of the Worlds.  She created her own 3D printed extruder discs for the main part of the robots, then used inlaid designs to complete the laser beams and the arms.  The design was not without its troubles, but the end result appears to be worth it!
War of the Worlds by Simply Original Soaps
Julie's prize is a $25 gift certificate from The Good Glitter.  Great job!
Fourth place goes to Natalie Jepson-Kundiger of Willow Tree Soaperie in Kansas!  Natalie tackled some iconic scenes from the E.T. movie, creating small column molds from soap dough, then etching textures and painting details on the surface for a highly realistic effect:
ET Phone Home by Willow Tree Soaperie
Natalie wins a $20 gift certificate from The Good Glitter – hooray!
Now we get to do Recognition Awards for the alien category!  The Best Technique award goes to Lauren Gumaelius in Sweden for all the hard work invested in the soap dough embeds put together to create this life cycle panorama from Aliens.  So many tiny pieces had to be integrated to complete this scene!
Aliens by Lauren Gumaelius
Lauren says, "I cannot really even count how many hours went into them, but art shall not be counted like that!"  But it can still be recognized!
Next is the Best Use of Color Award, and I have chosen Journey from Mars by Janelle Sharp in North Carolina to receive this award.  The contrast, combined with the bright, beautiful colors really drew my eye to this soap!  I love the blending of the pink and purple for the spaceship as well: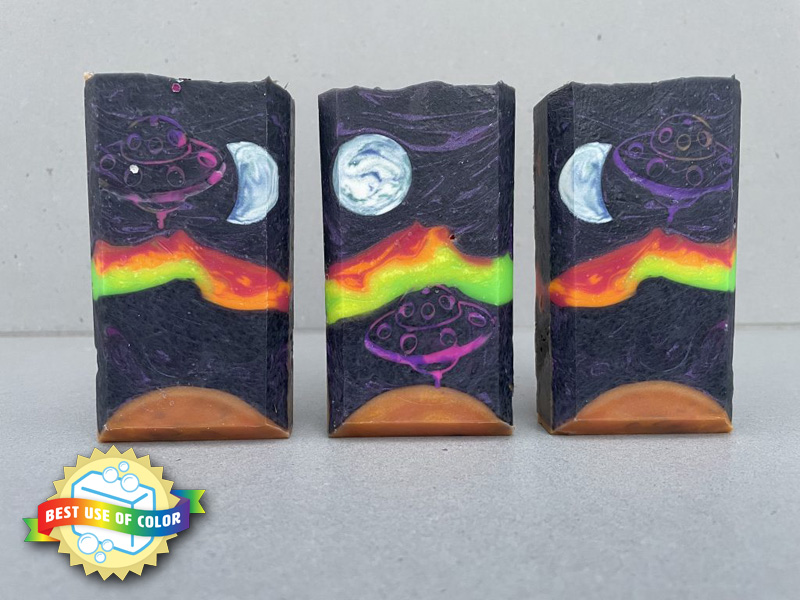 Journey from Mars by Janelle Sharp
Beautiful job on these, Janelle!
For the Best Presentation award, I've chosen Christmas Invasion by Amber Coon of Smithfield Valley Soaps in New York.  I love how the soaps are uniquely arranged against the clean, dark background.  The photo is well-lit and focused: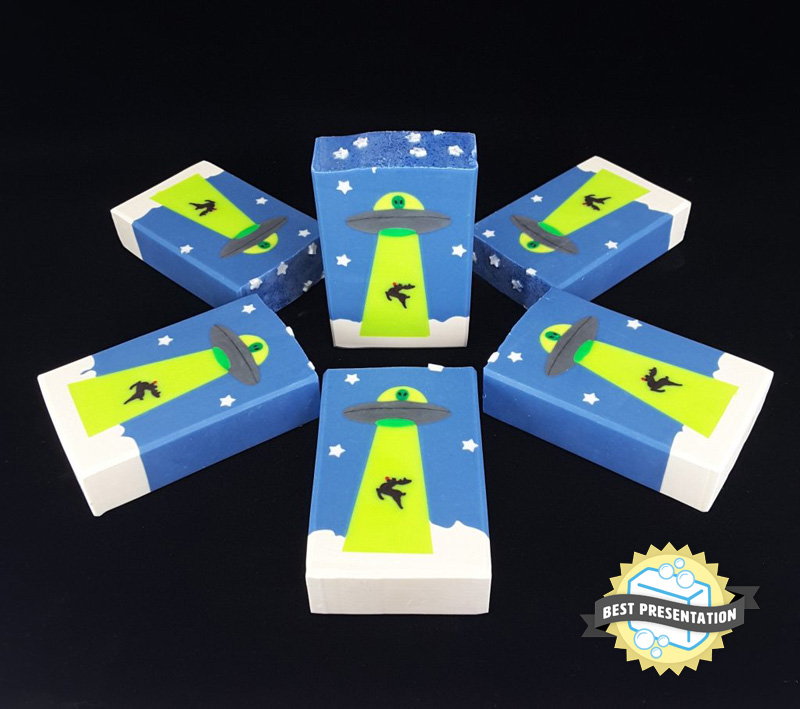 Christmas Invasion by Smithfield Valley Soaps
The soaps are creative, fun, and well-executed also. Well done, Amber!
I'm very excited to have a recipient for The Best Soap Newbie Award in the alien category as well!  This award goes to Elizabeth Marnell in Colorado for her entry "Abduct All Cows."  Elizabeth did a great job putting together a wide variety of difficult techniques for a beginner with excellent results: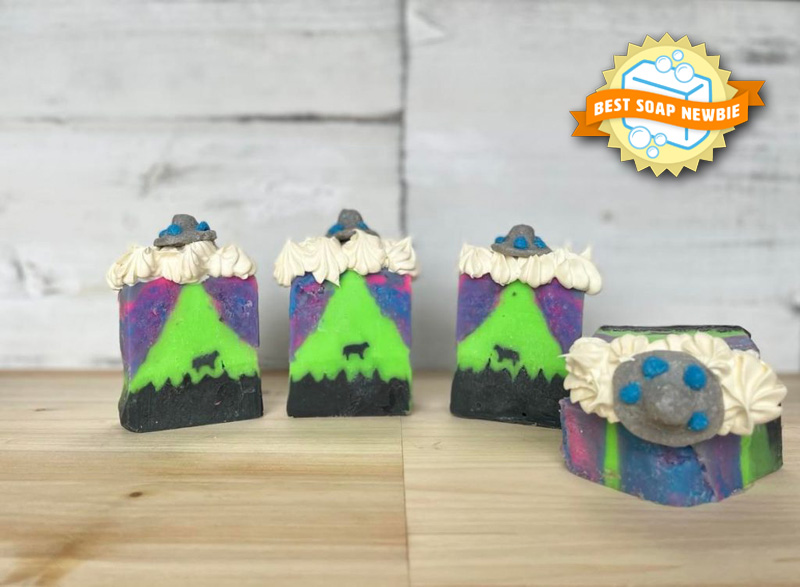 Abduct All Cows by Elizabeth Marnell
Keep up the great work, Elizabeth!
Finally, we have our Sponsor's Choice winner from the bonus category!  Brittainy says, "I would like to choose Alien At The Disco for the winner! All of these were incredible, and I wholeheartedly hope all of the participants know that I see and appreciate their talents! Alien At The Disco really demanded my attention because its use of non traditional 'alien' colors gave the design a whimsy feel. I can imagine this alien boogying on the dance floor! What a wonderful job!"
Alien At The Disco by Cecilia Patton
Congratulations to Cecelia Patton in California for this honor!  She wins a $20 gift certificate from The Good Glitter!
Brittainy would like to give two honorable mentions from the bonus category as well.  So here's a shout-out to Angelique Heiligers in Switzerland and April Nandico in New Hampshire.  Angelique's entry, Lady GaGaLaxie is being recognized for "stunning use of materials; the work put in really shows." 
Lady GaGaLaxie by Angelique Heiligers
April's entry, Cowboy is "simple and elegant; this soap looks well planned and executed."
Great job to all our winners, as well as everyone else who participated in the challenge this month!  If you would like to see the rest of the entries, check out these links:
Registration for the November (and December) challenges opens Monday, October 24!  The November challenge is Splash Swirls, inspired by Wachirahat Kris of Thai Herbal Soaps by KriS.  Baraka Shea Butter is back as our sponsor!  These are the soaps I created for the tutorial.  Check out the Upcoming Challenges page for more information and sign up to be notified as soon as registration opens.